Fresher Bioanalytical, Clinical research Jobs in Hyderabad for B pharm, Msc, M Pharmacy Students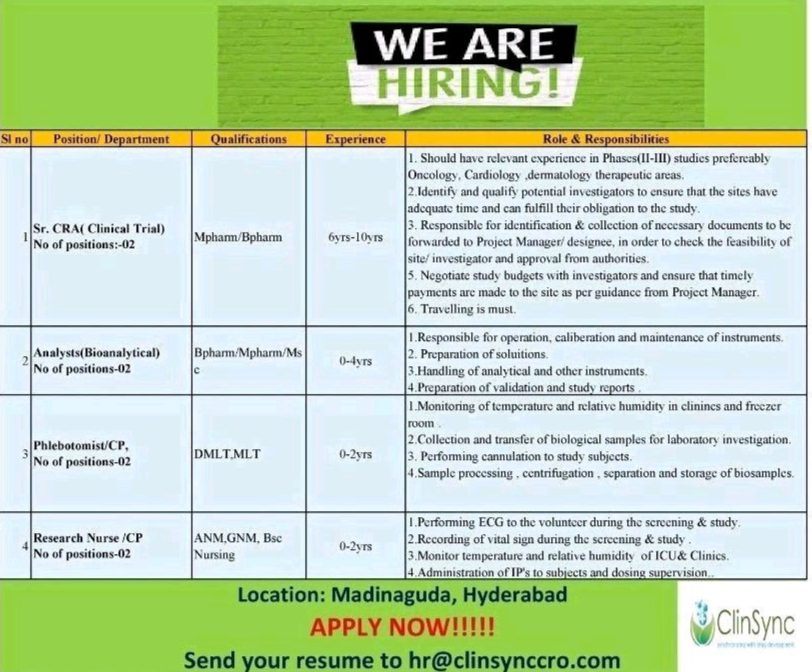 Clinical Research & Bio analytical Fresher and experienced Job vacancies in Hyderabad 2022
The detailed job description , eligibility, educational Qualification required and more information described below.
Company Name : ClinSync
Bio-analytical Fresher and experienced Jobs in Hyderabad
Position : Analysts (Bioanalytical)
No of positions – 02
Educational Qualification Required : B pharmacy / Mpharm / MSC
Experience : 0 to 04 years ( Freshers )
1.Responsible for operation, caliberation and maintenance of instruments.
2. Preparation of solutions.
3.Handling of analytical and other instruments.
4.Preparation of validation and study reports
position : Sr. CRA( Clinical Trial) 
No of positions: – 02
Educational Qualification : M pham / B pharmacy
Experience : 06 to 10 years
Role & Responsibilities :
Should have relevant experience in Phases(II-III) studies prefereably Oncology, Cardiology dermatology therapeutic areas.
Identify and qualify potential investigators to ensure that the sites have adequate time and can fulfill their obligation to the study.
Responsible for identification & collection of necessary documents to be forwarded to Project Manager/ designee, in order to check the feasibility of site/ investigator and approval from authorities.
Negotiate study budgets with investigators and ensure that timely payments are made to the site as per guidance from Project Manager.
Travelling is must
Location: Madinaguda, Hyderabad
APPLY NOW : Send your resume to hr@clinsynccro.com