Clinical Pharmacist Vacancies at JSS Medical Research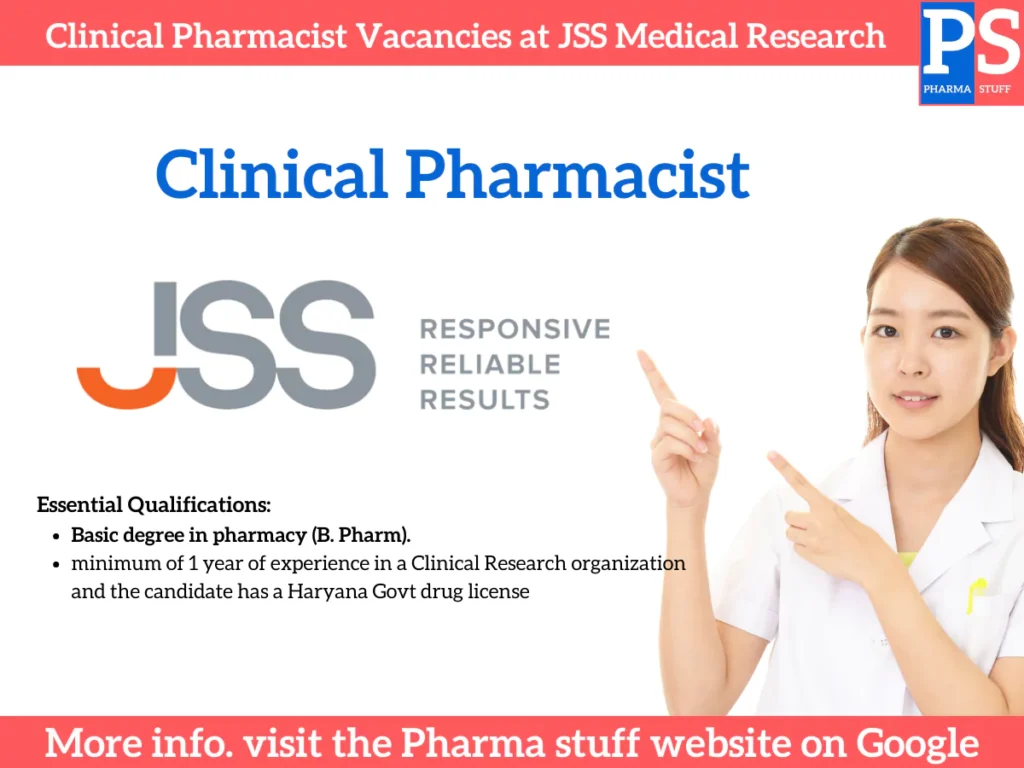 Clinical Pharmacist Jobs: Elevate Your Career with JSS Research
---
About the Company
Welcome to JSS Research, a renowned name in the clinical research domain, committed to advancing healthcare through innovative research and development. At JSS Research, we believe in nurturing talent and providing a dynamic work environment for professionals to thrive. We are currently hiring Clinical Pharmacists to join our team and contribute to groundbreaking research initiatives.
Company Vacancies List
Clinical Pharmacist
Company Name: JSS Research
Salary: Competitive
Detailed Job Description:

Role: Clinical Pharmacist
Industry Type: Clinical Research
Employment Type: Full Time
Role Category: Healthcare
Education:
Experience: minimum of 1 year of experience in a Clinical Research organization and the candidate has a Haryana Govt drug license
Key Skills: Clinical Pharmacist, Clinical Research, Haryana Govt Drug License
How to Apply: Interested candidates with the required experience can share their resume at shambhavi.mishra@jssresearch.com. Immediate joiners are preferred. This is a work-from-office opportunity.
Job Description
About the Department & Responsibilities
As a Clinical Pharmacist at JSS Research, you will play a crucial role in advancing our clinical research initiatives. Here's a glimpse of what the role entails:
Clinical Research Focus: Contribute to clinical research studies, ensuring compliance with industry standards and regulations.
Haryana Govt Drug License: Possess and maintain a valid Haryana Govt drug license, ensuring adherence to legal requirements.
Collaboration: Work closely with cross-functional teams to integrate pharmacy expertise into research projects.
Data Analysis: Analyze clinical data, ensuring accuracy and relevance in the context of research objectives.
Documentation: Maintain detailed records and documentation in accordance with regulatory guidelines.
How to Apply
If you are passionate about clinical research and have the required qualifications and experience, we invite you to be part of our innovative team. To apply for the Clinical Pharmacist position at JSS Research:
Submit Your Resume: Share your updated resume at shambhavi.mishra@jssresearch.com.
Subject Line: Use "Application for Clinical Pharmacist Role" in the subject line of your email.
Immediate Joiners Preferred: Mention your availability for an immediate start.
Work from Office: This is a work-from-office opportunity, ensuring a collaborative and engaging work environment.