Cipla pharma job vacancies for B Pharm/M Pharmacy / BSc / MSc / D Pharm / Diploma Candidates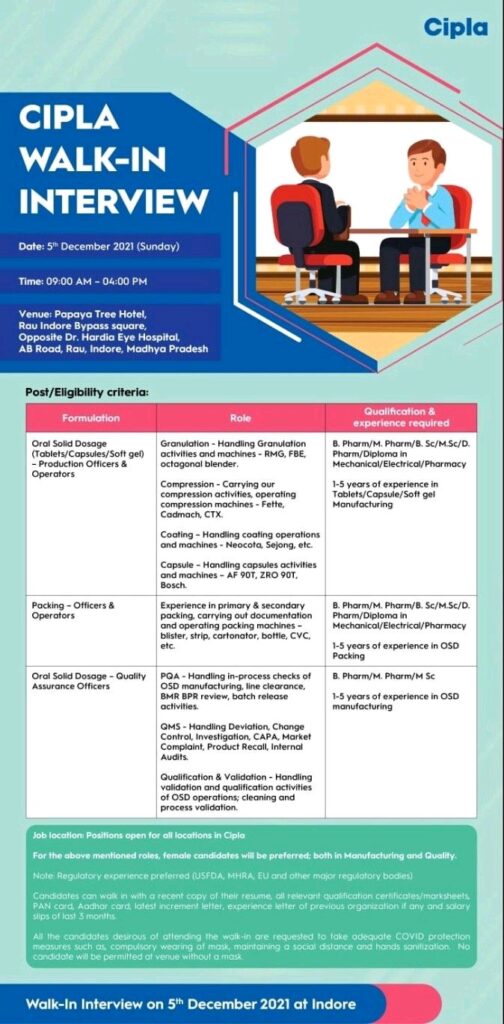 CIPLA Conducting WALK-IN INTERVIEW in indore & Chandigarh location
Post / Eligibility criteria:
Formulation:
Oral Solid Dosage (Tablets/Capsules/Soft gel) – Production Officers & Operators
Role: Granulation – Handling Granulation activities and machines – RMG, FBE, octagonal blender
Compression-Carrying our compression activities, operating compression machines – Fette, Cadmach, CTX.
Coating – Handling coating operations and machines – Neocota, Sejong, etc.
Capsule – Handling capsules activities and machines – AF 90T, ZRO 90T, Bosch
Qualification and experience required: B Pharm/M Pharmacy / BSc / MSc / D Pharm / Diploma in
Mechanical / Electrical / Pharmacy
Experience : 1-5 years of experience in Tablets/Capsule/Soft gel Manufacturing
Formulation: Oral Solid Dosage – Quality Assurance Officers
Role:
IPQA-Handling in-process checks of
OSD manufacturing, line clearance, BMR BPR review, batch release activities.
QMS-Handling Deviation, Change Control, Investigation, CAPA, Market Complaint, Product Recall, Internal Audits.
Qualification & Validation – Handling validation and qualification activities of OSD operations; cleaning and process validation.
Qualification and experience required: B Pharmacy / M Pharm / M Sc
Experience : 1-5 years of experience in OSD manufacturing
Job location: Positions open for all locations in Cipla
For the above mentioned roles, female candidates will be preferred; both in Manufacturing and Quality.
Note: Regulatory experience preferred (USFDA, MHRA, EU and other major regulatory bodies)
Candidates can walk in with following Documents:
Recent copy of their resume
All relevant qualification certificates /marksheets PAN card
Aadhar card
latest increment letter
experience letter of previous organization if any and salary slips of last 3 months.
All the candidates desirous of attending the walk-in are requested to take adequate COVID protection measures such as, compulsory wearing of mask, maintaining a social distance and hands sanitization. No candidate will be permitted at venue without a mask.
Walk-In Interview on 5th December 2021 at Chandigarh
Date: 5th December 2021 (Sunday)
Time: 09:00 AM – 04:00 PM
Venue: Hotel Hometel, A Sarovar Hotel, Plot No 147, 148, Pury Marg, Industrial Area Phase I, Chandigarh.
Walk-In Interview on 5th December 2021 at Indore
Venue: Papaya Tree Hotel, Rau Indore Bypass square, Opposite Dr. Hardia Eye Hospital AB Road, Rau, Indore, Madhya Pradesh