biocon biologics Bangalore biotech jobs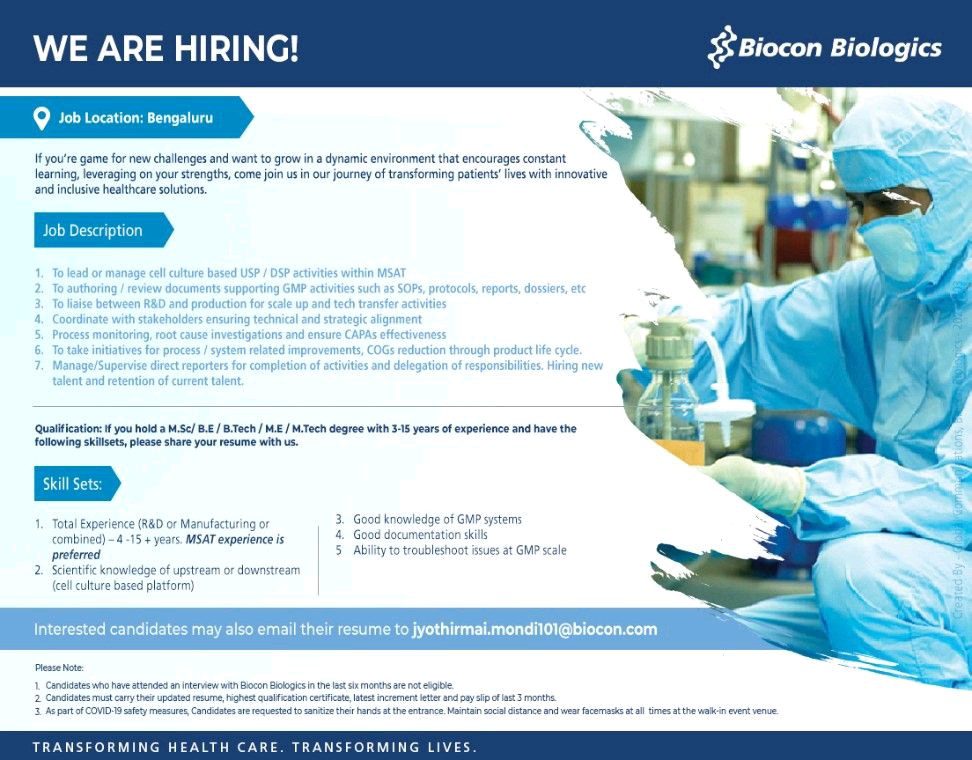 Biocon Biologics Job vacancies in Bangalore 2021
you're game for new challenges and want to grow in a dynamic environment that encourages constant learning, leveraging on your strengths, come join us in our journey of transforming patients' lives with innovative and inclusive healthcare solutions.
Job Description
1. To lead or manage cell culture based USP / DSP activities within MSAT
2. To authoring/review documents supporting GMP activities such as SOPs, protocols, reports, dossiers, etc
3. To liaise between R&D and production for scale up and tech transfer activities
4. Coordinate with stakeholders ensuring technical and strategic alignment
5. Process monitoring, root cause investigations and ensure CAPAs effectiveness
6. To take initiatives for process / system related improvements, COGS reduction through product life cycle.
7. Manage/Supervise direct reporters for completion of activities and delegation of responsibilities. Hiring new talent and retention of current talent.
Qualification: If you hold a M.Sc/ B.E/B.Tech / M.E/M.Tech degree with 3-15 years of experience and have the following skillsets, please share your resume with us.
Skill Sets:
1. Total Experience (R&D or Manufacturing or combined) 4 to 15+ years. MSAT experience is preferred
2. Good knowledge of GMP systems
preferred
3. Scientific knowledge of upstream or downstream (cell culture based platform)
4. Good documentation skills
5 Ability to troubleshoot issues at GMP scale
Interested candidates may also email their resume to jyothirmai.mondi101@biocon.com
Please Note:
Candidates who have attended an interview with Biocon Biologics in the last six months are not eligible
Candidates must carry their updated resume, highest qualification certificate, latest increment letter and pay slip of last 3 months
As part of COVID-19 safety measures, Candidates are requested to sanitize their hands at the entrance Maintain social distance and wear facemasks at all times at the walk-in event venue