Anthem biosciences chemical synthesis job vacancies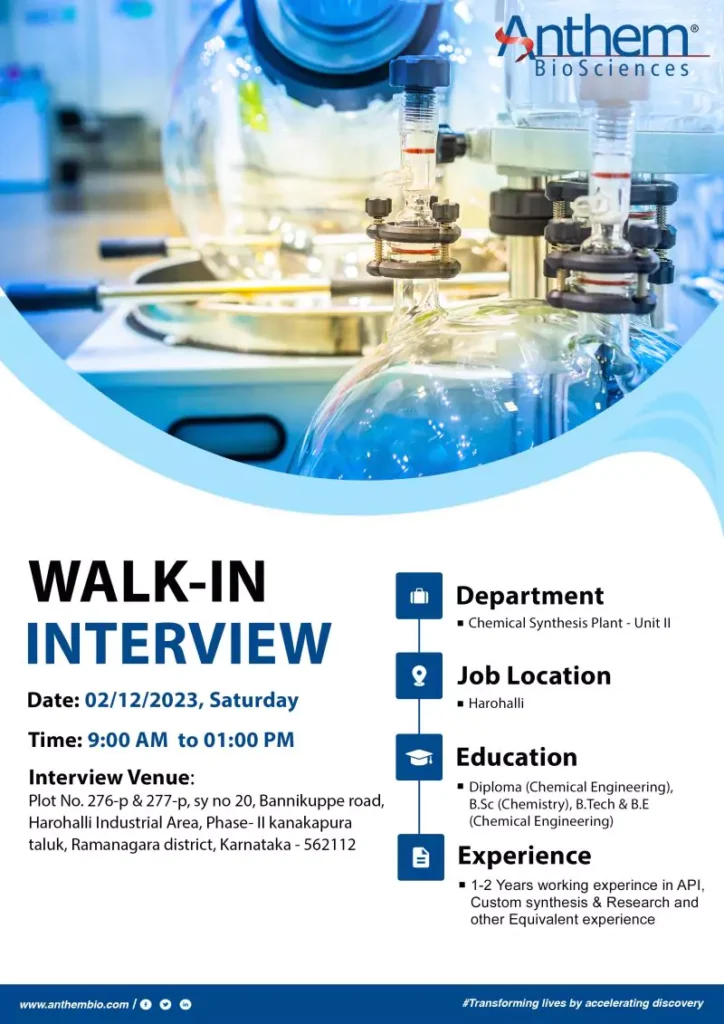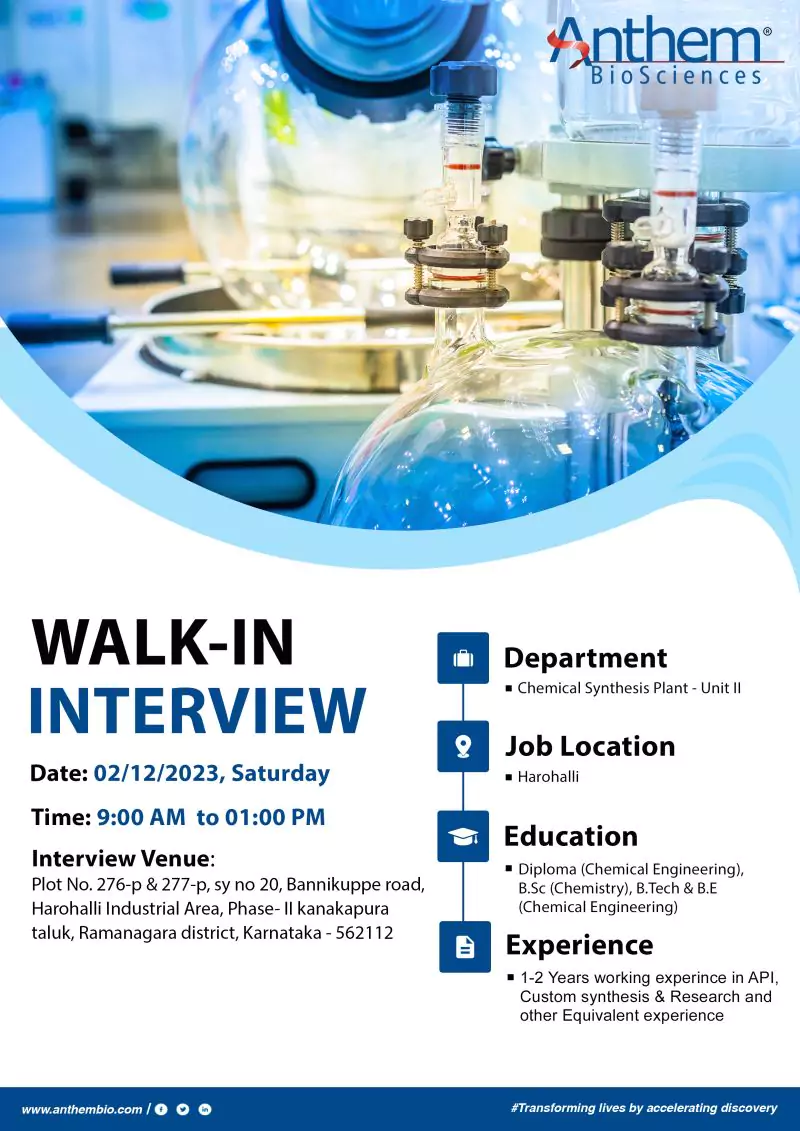 anthem biosciences pvt ltd
Anthem BioSciences Chemical Synthesis Job Vacancies: Explore Exciting Opportunities
About the Company
Welcome to Anthem BioSciences, a renowned name in the field of accelerating discovery and transforming lives. At Anthem BioSciences, we are committed to making a positive impact through innovative solutions in the chemical synthesis domain. Join us in our journey of discovery and growth.
Company Vacancies List
Position Title: Chemical Synthesis Specialist
Company Name: Anthem BioSciences
Company Address
Plot No. 276-p & 277-p, Sy No 20, Bannikuppe Road, Harohalli Industrial Area, Phase-II, Kanakapura Taluk, Ramanagara District, Karnataka – 562112
Detailed Job Description
We are currently inviting dynamic individuals to join our Chemical Synthesis Plant – Unit II at Harohalli. The key details for the job opening are as follows:
Role
As a Chemical Synthesis Specialist at Anthem BioSciences, you will play a pivotal role in API, Custom Synthesis, and Research. Your responsibilities will include:
Conducting chemical synthesis processes
Contributing to custom synthesis projects
Engaging in research activities
Ensuring compliance with safety and quality standards
Industry Type: Pharmaceuticals
Department: Chemical Synthesis
Employment Type: Full-time
Role Category: Specialist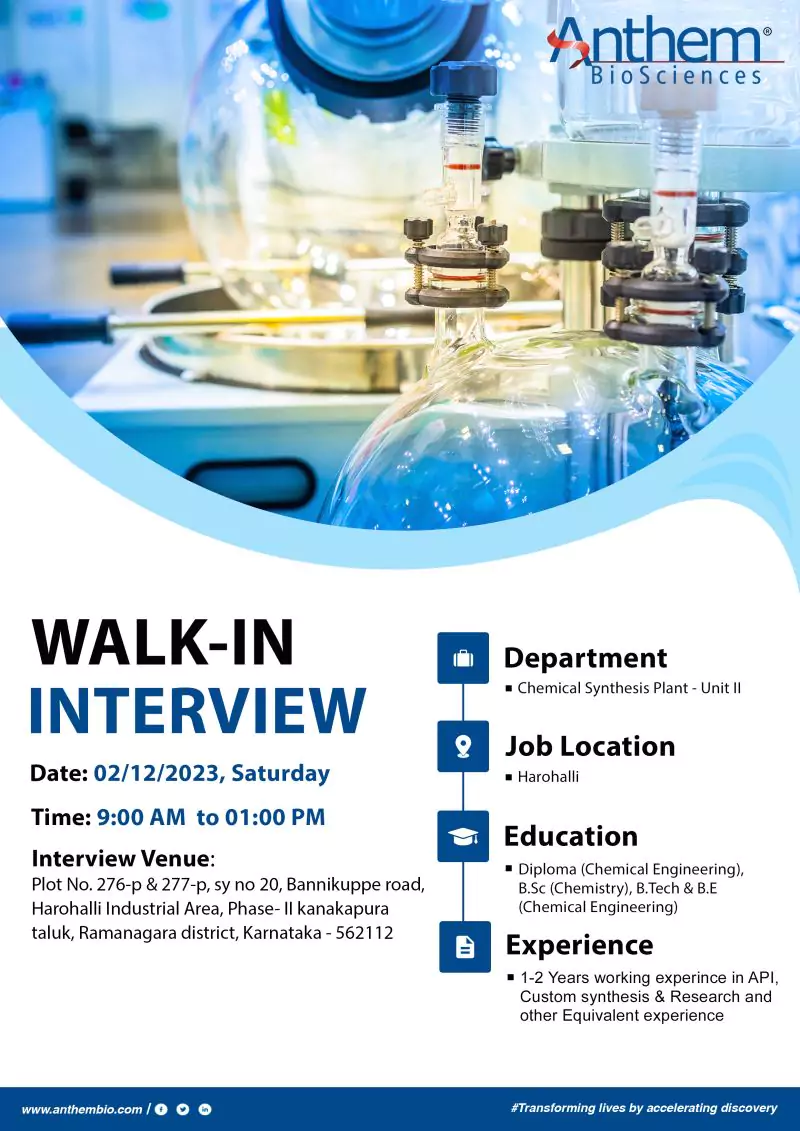 Education
UG: Diploma (Chemical Engineering), B.Sc (Chemistry)
PG: B.Tech & B.E (Chemical Engineering)
Key Skills
Chemical Synthesis
API
Custom Synthesis
Research
Safety Compliance
Quality Standards
How to Apply
Interested candidates with 1-2 years of working experience in API, Custom Synthesis, and Research or equivalent are invited to the walk-in interview. Join us on 2nd December 2023, Saturday, from 9:00 AM to 01:00 PM at the Chemical Synthesis Plant – Unit II, Harohalli.