4C Pharma Solutions Hiring Drug Safety Professionals-MICC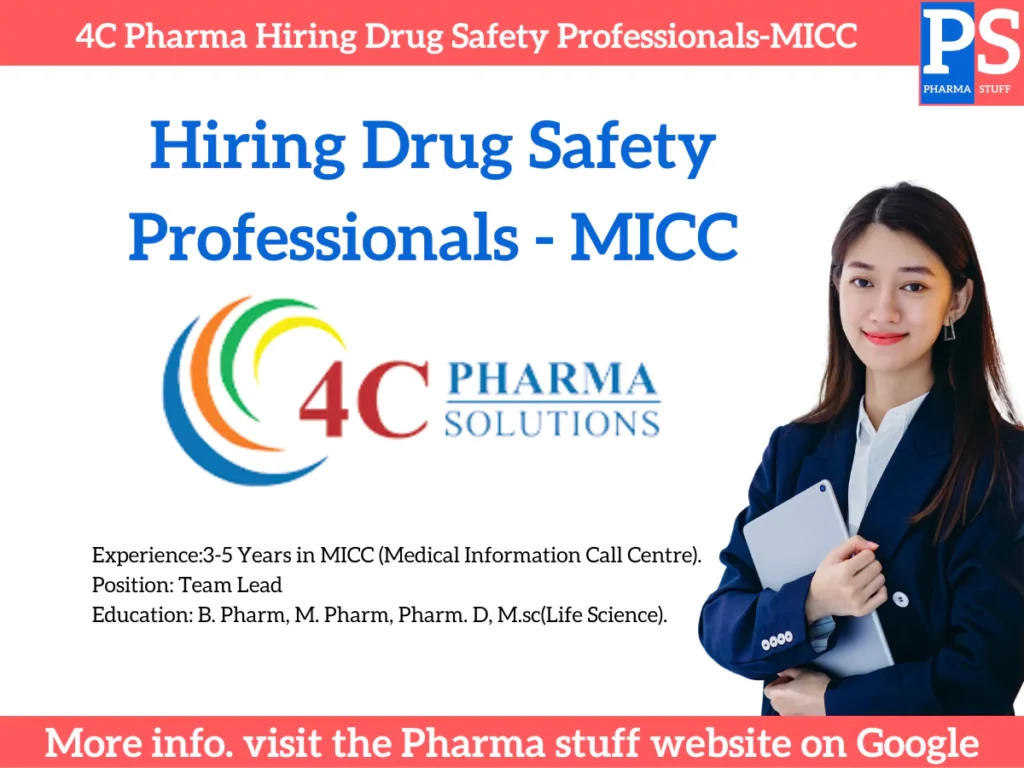 ompany Name: 4C Pharma Solutions
Website: 4C Pharma Solutions
Welcome to 4C Pharma Solutions, a leading player in the pharmaceutical industry dedicated to excellence in drug safety and pharmacovigilance. We are currently expanding our team and have exciting opportunities for Drug Safety Professionals in the Medical Information Call Centre (MICC).
---
Company Vacancies List
Position Title: Team Lead – Drug Safety Professionals-MICC
Company Name: 4C Pharma Solutions
Salary: Competitive
---
Detailed Job Description
Role and Responsibilities
Embark on a rewarding career journey with 4C Pharma Solutions. As a Drug Safety Professional in MICC, you will be a vital part of our dynamic team. Here's what the role entails:
Roles & Responsibilities:
Communication Excellence: Showcase excellent communication skills in KPO Pharmacovigilance-Voice Process.
Night Shift Availability: Be willing to work in night shifts as part of the job requirement.
Location Flexibility: Demonstrate the willingness to relocate to Hyderabad for the position.
Experience Requirement: Possess 3-5 years of experience in MICC (Medical Information Call Centre).
Position: Fulfil the role of a Team Lead.
Educational Background: Hold a degree in B. Pharm, M. Pharm, Pharm. D, or M.Sc (Life Science).
Work Schedule: Enjoy a 5-day workweek with hybrid working options.
How to Apply: If you are ready to take the next step in your career and meet the specified criteria, we invite you to share your CV with us at hr@4cpharma.com.