Job Vacancies at Virchow Biotech Pharma – Walk-In Interview QC Microbiology & Manufacturing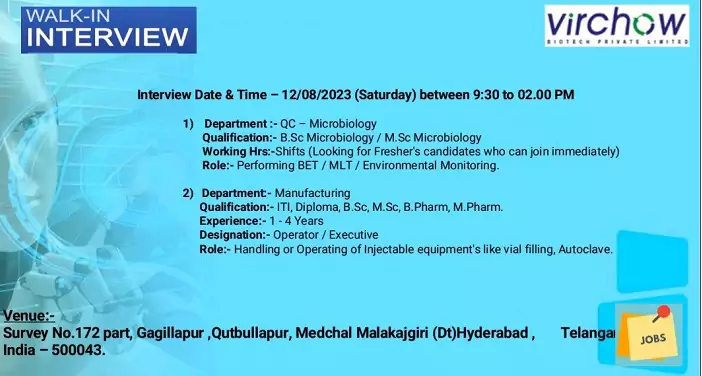 Job Vacancies at Virchow Biotech Pharma – Walk-In Interview
Discover promising career opportunities at Virchow Biotech Pharma through our exclusive Walk-In Interview event. Join us on August 12, 2023 (Saturday) between 9:30 AM and 2:00 PM to explore your potential with a leading player in the biotech industry.
Job Details
Department: QC – Microbiology
Qualification: B.Sc Microbiology/ M.Sc Microbiology
Working Hours: Shifts
Role: We are actively seeking fresh candidates who are ready to join immediately. As part of the Microbiology QC team, you will be responsible for performing BET/MLT/Environmental Monitoring.
Department: Manufacturing
Qualification: ITI, Diploma, B.Sc, M.Sc, B.Pharm, M.Pharm.
Experience: 1-4 Years
Designation: Operator / Executive
Role: Join our Manufacturing team and operate Injectable equipment such as vial filling and Autoclave. Your experience will play a vital role in ensuring the smooth operation of our processes.
Walk-In Interview Details
Date & Time: August 12, 2023 (Saturday), 9:30 AM to 2:00 PM
Venue: Survey No. 172 part, Gagillapur, Qutbullapur, Medchal Malakajgiri (Dt), Hyderabad, India – 500043, Telangana