JAMP Pharma- hiring freshers at their R&D Center Hyderabad
Title: Jamp Pharma Hiring Freshers for Trainee Roles in Formulation and Analytical Development at R&D Center Hyderabad
Jamp Pharma, a leading pharmaceutical company, seeks freshers for trainee roles in Formulation Development and Analytical Development at its R&D Center in Hyderabad. The company seeks male candidates with an M.Pharm in Pharmaceutical Analysis or an M.Sc in Analytical Chemistry. The selected candidates will be required to work in rotational shifts.
This is a great opportunity for freshers to start their careers in the pharmaceutical industry and gain hands-on experience in Formulation Development and Analytical Development. The company is known for its innovative products and state-of-the-art facilities, which provide an ideal learning environment for trainees.
Jump Pharmaceuticals is a leading Canadian pharmaceutical company that was founded in 1991. The company is headquartered in Boucherville, Quebec, and has a strong presence in Canada and the United States. Jump Pharmaceuticals is known for its wide range of high-quality generic drugs sold under the Jamp Pharma brand.

Looking for Trainee Roles – Formulation Development & Analytical Development – R & D
Qualification: M.Pharm (Pharmaceutical Analysis) / M.Sc (Analytical Chemistry)
Requirement:
Male candidates are eligible.
-Should be flexible working in rotational shifts.
How to Apply
Interested candidates can apply by sharing their resumes with skiran@jamppharma.com. The selection process will involve multiple rounds of interviews, and the final candidates will be offered a competitive salary package and other benefits.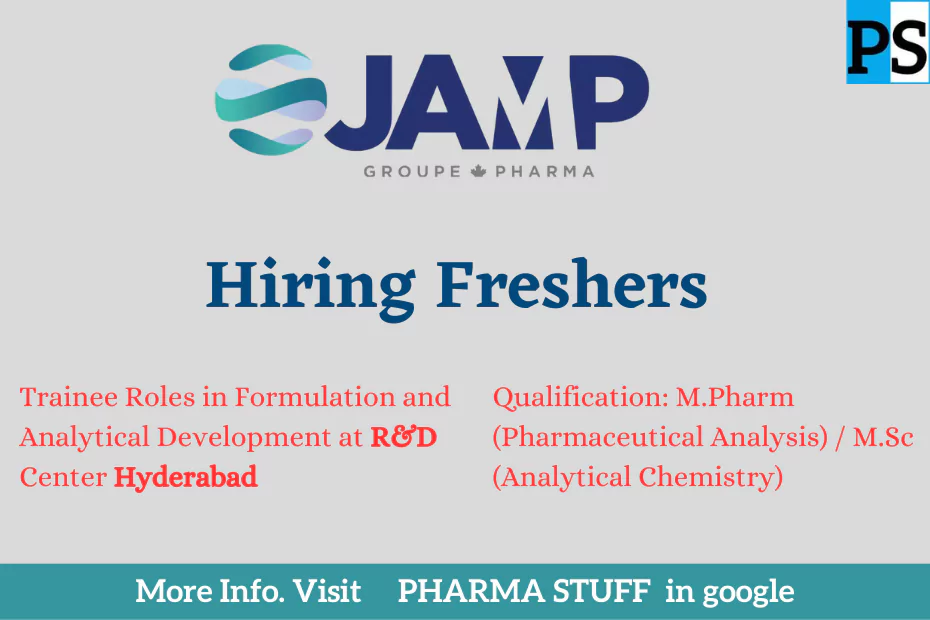 Disclaimer:

PHARMA STUFF
 provides general information only. Job seekers must verify job postings and employers before applying. We're not liable for scams or fraudulent job postings. Be cautious of any job postings asking for money. We never ask for money.