Clinical trials assistant job opportunities in Icon plc (CTA)
Location; CHENNAI
Job ID; JR104955
CLINICAL TRIAL SUPPORT

About the role
At ICON, it's our people that set us apart. Our diverse teams enable us to become a better partner to our customers and help us to fulfil our mission to advance and improve patients' lives.
Our 'Own It' culture is driven by four key values that unite us as individuals and set us apart as an organization: Accountability & Delivery, Collaboration, Partnership and Integrity. We want to be the Clinical Research Organisation that delivers excellence to our clients and patients at every touch-point. In short, to be the partner of choice in drug development.
That's our vision. We're driven by it. And we need talented people who share it.
If you're as driven as we are, join us. You'll be working in a dynamic and supportive environment with some of the brightest and friendliest people in the sector and helping shape an industry.
As a Clinical Trial Assistant at ICON, you'll work with a collaborative and successful team to support our Clinical Trial Management and Project Management teams with operational activities. We pride ourselves on our amazing company culture, where we work as one team to achieve industry-leading results.
Job Description :
To possess knowledge of ICH GCP, appropriate regulations, relevant ICON SOPs, ICON internal tracking systems, and Client SOPs / Client systems (when applicable)
To assist the project teams with the set-up, organization and maintenance of clinical study documentation (e.g. Study Files, CRFs, etc.) and guidelines (as appropriate), including preparation for internal/external audits, final reconciliation and archival
To assist in the processing of Data Collection Forms i.e. log-in, tracking, and quality control as appropriate for the study
To share responsibility in the quality control audits of clinical study documentation (e.g. Study Files, CRF Files, Monitoring Files, etc.) to ensure study files are inspection ready at all times
To assist project teams with trial progress tracking by updating the Clinical Trial Management systems, providing access to study/client systems (as appropriate)
To assist in the coordination of study-related payments, if applicable
To contact and serve as a contact for clinical sites for basic requests (e.g., enrolment updates, missing documentation, meeting arrangements, etc.)
To assist and attend the Project team with meeting coordination, activities preparation, generation of meeting minutes and agendas
To assist in the production of slides, overheads, etc., as needed for project, departmental, sponsor and/or business development presentations
To assist with the coordination of various tracking reports, including but not limited to, team member tracking and training
To work in collaboration with internal and external colleagues to meet project objectives and timelines
To Keep the Project Manager / Project Director / Clinical Operations Designee informed of any issues within the Project Team which require attention
To maintain client and patient confidentiality
You will need:
Minimum 1 year of experience in Clinical trials with TMF experience.
Knowledge of ICH GCP and other appropriate regulations
Preferably from an "Allied Health Sciences" background
Strong Administrative skills
Organizational skills to support several team members.
Excellent written and verbal communication
Working Knowledge of computer systems, including Microsoft Word, Excel, Outlook and PowerPoint
Benefits of Working in ICON:
Our success depends on the quality of our people. That's why we've prioritised building a culture that rewards high performance and nurtures talent.
We offer very competitive salary packages. And to keep them competitive, we regularly benchmark them against our competitors. Our annual bonuses reflect the delivery of performance goals – both ours and yours.
We also provide a range of health-related benefits to employees and their families and offer competitive retirement plans – and related benefits such as life assurance – so you can save and plan confidently for the years ahead.
But beyond the competitive salaries and comprehensive benefits, you'll benefit from an environment where you are encouraged to fulfil your purpose and drive lasting change.
ICON is an equal opportunity and inclusive employer committed to providing a workplace free of discrimination and harassment. All qualified applicants will receive equal consideration for employment regardless of race, colour, religion, sex, sexual orientation, gender identity, national origin, disability or protected veteran status.
If, because of a medical condition or disability, you need reasonable accommodation for any part of the application process or to perform the essential functions of a position, please let us know through the form below.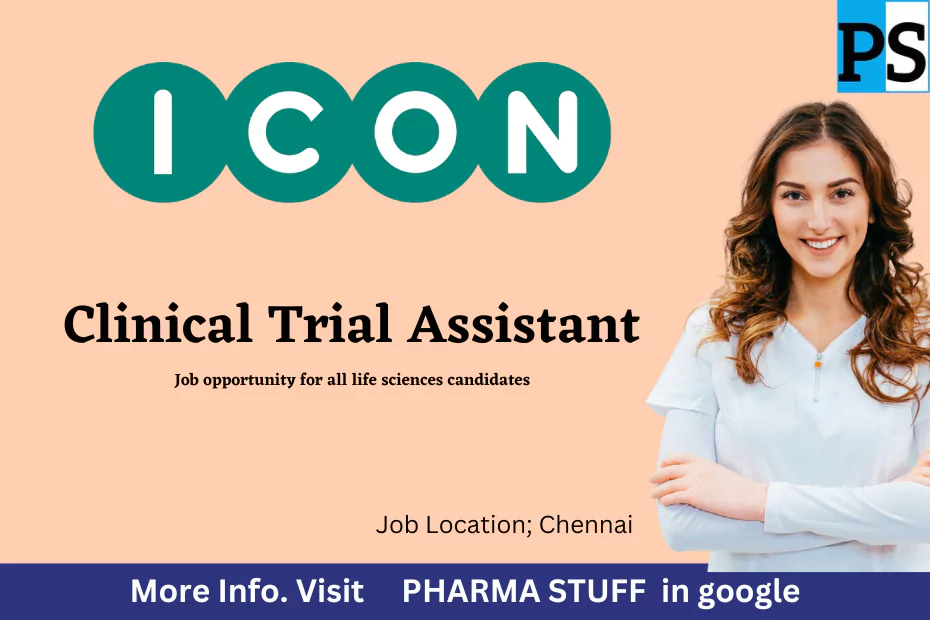 Disclaimer:

PHARMA STUFF
 provides general information only. Job seekers must verify job postings and employers before applying. We're not liable for scams or fraudulent job postings. Be cautious of any job postings asking for money. We never ask for money.