GeBBs Healthcare Solutions – Walk-In for B.Pharm, M.Pharm, D.Pharm, B.Sc Life Science Graduate Freshers – Medical Coding on March 31 to April 5′ 2023
GeBBs Healthcare Solutions is one of the leading global providers of healthcare solutions and services. The company offers various services, including medical coding, billing, revenue cycle management, and healthcare analytics. GeBBs is known for its state-of-the-art technology, exceptional quality, and commitment to customer satisfaction.
Walk-in interview for B.Pharm, M.Pharm, D.Pharm, and B.Sc Life Science Graduate Freshers for Medical Coding. great opportunity for individuals who are passionate about the healthcare industry and want to build a career in medical coding
Greetings from GeBBs Healthcare Solutions – Mumbai 📣Hiring Freshers – Medical Coding Openings 📣
Only Walk-In interviews from March 31 to April 5 2023
No Telephonic
Timing:- 10:30 AM

Qualification:- Lifescience Graduates (D-Pharm, B.Pharm, M. Pharm, B.Sc-Biotechnology, Zoology, Microbiology)
🚫 Chemistry Grads 🚫 Not Eligible 🚫
Venue:- Building No.5 & 6, 4th Office Level Mindspace, Thane – Belapur Road Airoli, Navi Mumbai, Maharashtra – 400708
Prepare 12 Organ Systems Anatomy & Physiology, Diseases*

Keep me posted one day prior, don't call. Only WhatsApp me at +91-88884-15336 for confirmation
Note:
We will only take the first 30 people per day to walk in. For the rest of them, we will take their resume and will make sure will give them the first preference.

Reference Details:-
Name:- Gajanan Prakash Thonge
EMP ID:- 22846
PS:- Mention Emp I'd and my name on the top corner of your resume !*
After selection on the joining form also u have to add reference details.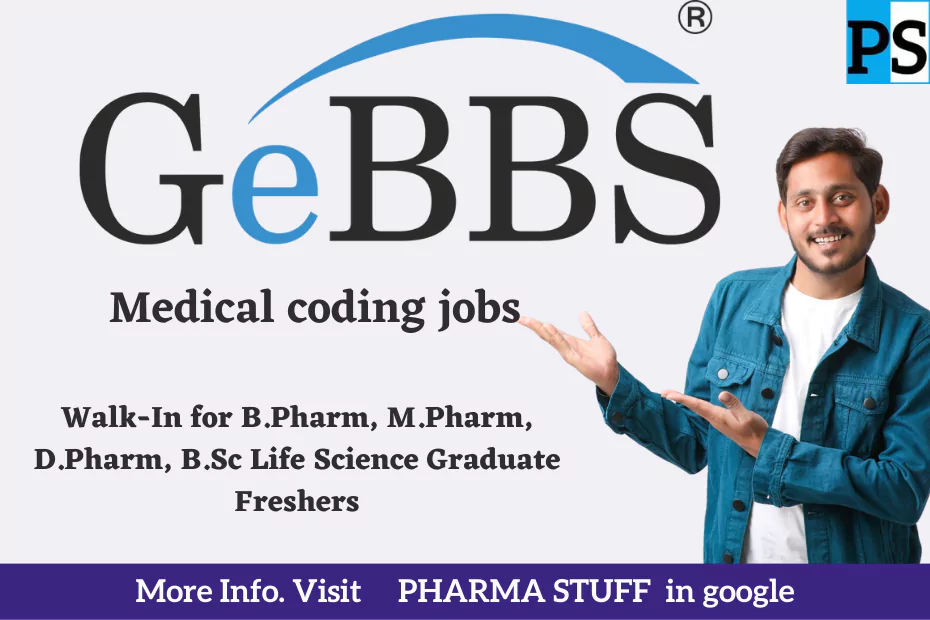 Disclaimer:

PHARMA STUFF
 provides general information only. Job seekers must verify job postings and employers before applying. We're not liable for scams or fraudulent job postings. Be cautious of any job postings asking for money. We never ask for money.