Curadev Pharma Private Limited Hiring Research Biologists for their Noida Plant
Important Information :

Position: Research Biologist / Research Chemist

Experience: fresher to 5 years

Education: MSc in Chemistry, Biotechnology, Microbiology, and M Pharmacy

Job Location: Noida

Candidate should be able to:
Operate, maintain, and develop qualitative and quantitative LC/MS methods on mass spectrometers
Process cellular and tissue samples for analysis of LC/MS
Perform experiments using HPLC
Job Description :
Process pharmacokinetic samples, cellular and tissue samples for analysis by tandem Liquid Chromatography/Mass Spectrometry (LC/MS/MS)
Should have basic knowledge of different methods used in plasma sample processing for pharmacokinetics analysis
Operate, maintain, and develop qualitative and quantitative LC and LC/MS/MS methods
Process, interpret, and visualize data to facilitate project team decisions Prepare samples, chemicals,  reagents, and solutions for routine assay procedures as described in various Standard Operating Procedures (SOPs)
Schedule and run samples using appropriate software for the routine processing of analytical batches using analytical techniques
Assist in the development of methods of analysis in order to deliver fully validated assays
Company address: B-87, Sector 83, Noida, Uttar Pradesh 201305


Application Process: Interested candidates can send in their resumes to hr@Curadev.in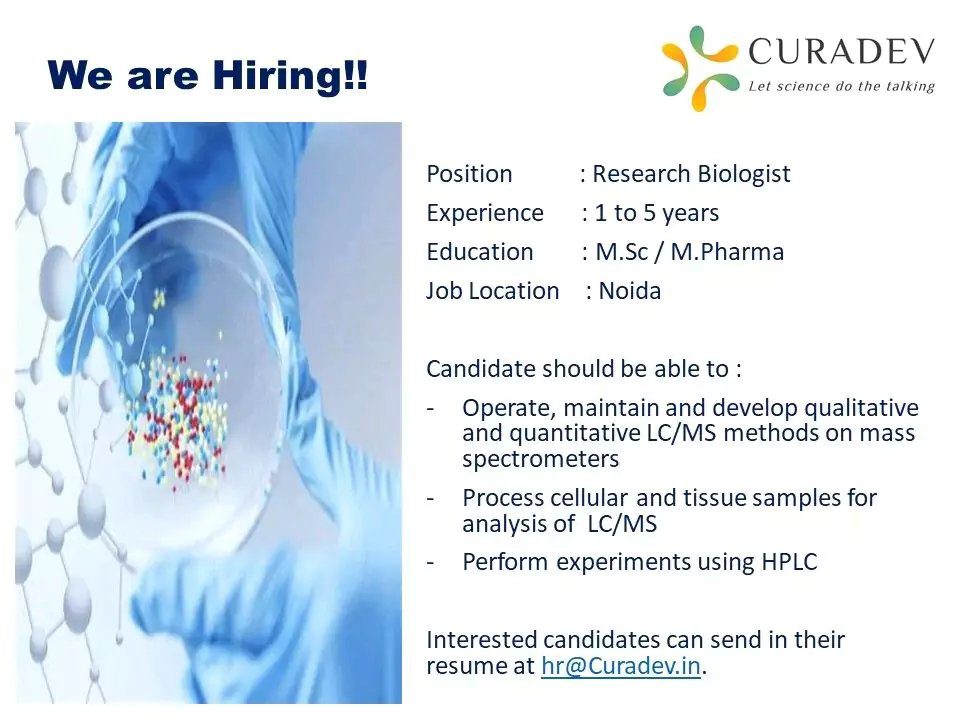 Note: Subscribe to PHARMA STUFF for Hourly Pharma job openings, Medical coding, Clinical Research, and Pharmacovigilance, and more follow us on INSTAGRAM, Youtube, Telegram, and subscribe to our Whatsapp Group
Disclaimer:

PHARMA STUFF
 provides general information only. Job seekers must verify job postings and employers before applying. We're not liable for scams or fraudulent job postings. Be cautious of any job postings asking for money. We never ask for money.