Cognizant Hiring Notification for Medical Scribes in India Both Freshers & Experience Candidates are eligible to apply

Bsc, Msc, B pharmacy & M Pharmacy Candidates are eligible to apply Process Executive Role. Interested & Eligible Candidates are appply Now

Role of Medical Scribe ;
Not limited
As a Medical Scribe, you will produce high-quality and detailed medical notes based on the patient-doctor conversation.
As a Medical Scribe, you will help US physicians in the best possible way and with this, you will ensure the delivery of 99% accurate notes.

output, The virtual scribing environment is stable and promotes steady as well as methodical work so that chart notes can be available to US medical practitioners on time and error-free.

SPE (Senior Process Executive)

Medical Transcription/Medical Scribe
Experience Range: 1-3 years
Job Location: Hyderabad/Secunderabad, Pune, Chennai, Bangalore/Bengaluru, Delhi / NCR, Mumbai (All Areas), Mumbai, Coimbatore, Chennai, Gurgaon, Mysore, Mangalore, Chandigarh, Mohali, Pune, Kochi.

SPE (Senior Process Executive) ( Chennai/Coimbatore )

PE (Process Executive)
Fresher (BSc / MSc & B Pharmacy / M Pharmacy)


Recruitment Process :

Step 1: Interested Candidates Please share your resume at twinkle.gada@cognizant.com / 2007641@cognizant.com,  you have shared resume than please Call on 7715817943
Step 2: Cognizant HR Team Review your CV. Qualified Candidates Receive the email Notification.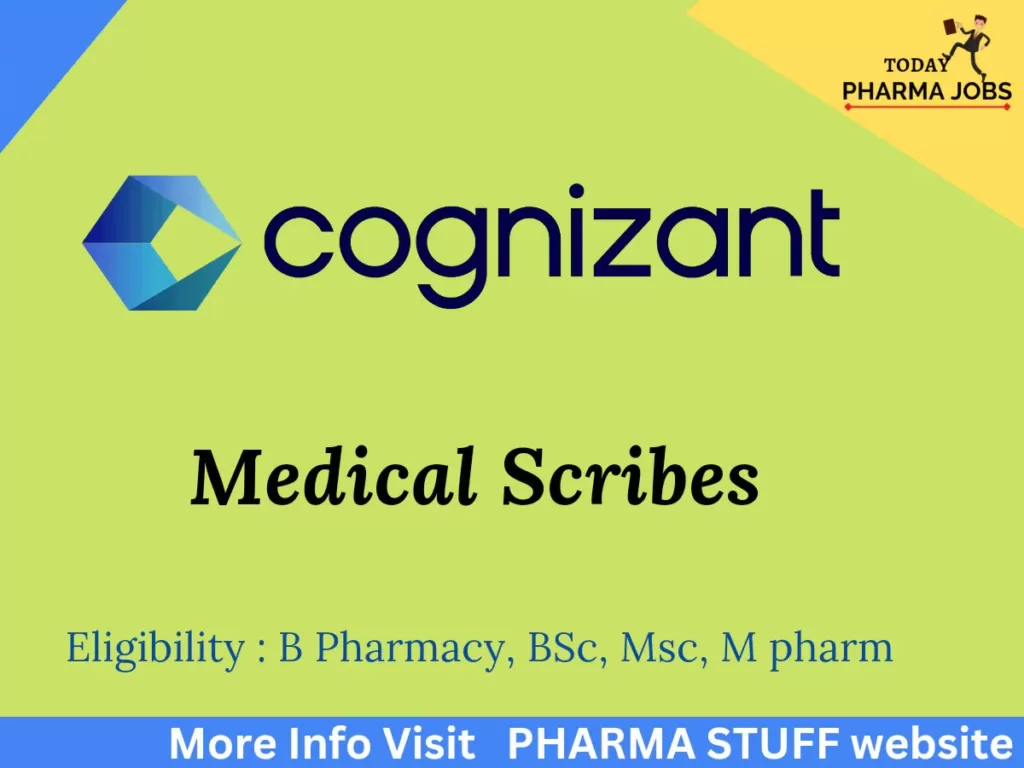 Note
:
Subscribe
to PHARMA STUFF for Hourly Pharma job openings, Medical coding, Clinical Research, and Pharmacovigilance, and more follow us on INSTAGRAM
,
Youtube
,
Telegram,
and subscribe to our
Whatsapp Group
Disclaimer:

PHARMA STUFF
 provides general information only. Job seekers must verify job postings and employers before applying. We're not liable for scams or fraudulent job postings. Be cautious of any job postings asking for money. We never ask for money.