Coca-Cola is hiring a Process QA Analyst in Pune, Maharashtra, India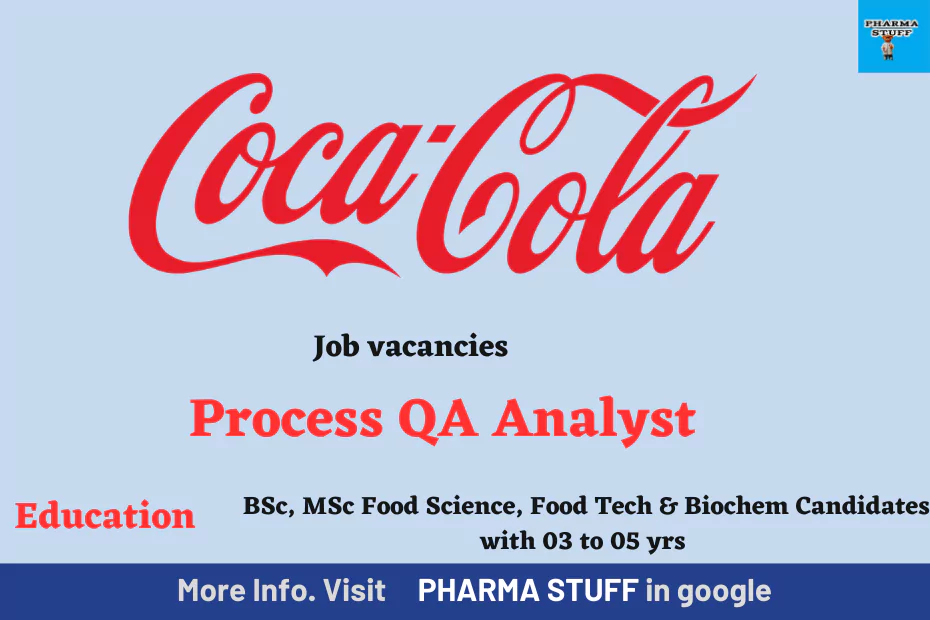 Coca-Cola QA Analyst Job opportunities for BSc, MSc Food Science, Food Tech & Biochem Candidates
Job Title: Process QA Analyst
Location: Pune, Maharashtra IN
Job ID: R-85737
Time Type: Full time
Job type: FullTime
Relocation: none
Post Date: March 16, 2023
Process QA analyst is expected to
Build a Total Quality Management culture by driving/developing the capabilities of the Associates on Quality aspects on the job and evaluate process/equipment capabilities through Validations and Process Monitoring.
Ensure manufacturing processes/process quality activities are followed in compliance with KORE & ISO, GMP and local regulation requirements by developing & providing SOPs for plant processes and timely technical support and decision on the quality problem, observation to protect product's integrity and specification and final disposition of customer complains/feedback.
Establish and maintain an effective, governed and documented system for all company processes, which is integrated compliant to its entire applicable standard references, and capable of meeting company requirements continually.
Evaluate new packaging material and ensure the packaging fitness for use and handling of all packing material documentation which is part of the quality system.
Use data analysis tools and analyze data to reach logical conclusions to find out the root cause of issues and develop corrective/preventive action plans.
Process Quality Activities: 60%
Ensure the plant's operations continue keeping pace with new KORE requirements, regulations, quality management methods and industry best practices.
Regularly conduct the risk assessment for plant key processes to mitigate the risk of failure to deliver Quality products.
Ensure that quality is built into the process by training Associates on Quality monitoring aspects.
Validate equipment and processes, routinely monitoring and adhering to Good Manufacturing Practices of the highest standard.
Create a technical library/database by compiling in an easy retrieval system all the technical information available in the plant post-commissioning and compiling the validation reports generated as a result of the Validation Master Plan implementation.
Ensure all manufacturing instructions  (SMI) are followed by production effectively.
Organize and support plant associates to use the problem-solving tools for root-cause analysis and action plans to eliminate the recurrence of quality issue
Support Corrective/Preventive actions of PDR, TDQ, and analysis of manufacturing problems.
Perform process validations and process capability studies to ensure the performance of production equipment meet KORE requirements and required actions are implemented if there is any deficiency
Inspect manufacturing equipment for use after maintenance (calibration, maintenance, etc).
Assess existing processes/operations to seek the possibility to eliminate non-value activities by adopting the OE concept and methodology
To review the completed analysis report against KO requirements and documents relating to food regulation for auxiliary material/processing aid to authorize the supplier to finally.
Conduct SPC and other data analysis of process data
New Packaging development and routine incoming inspection; 15%
Work with Asia packaging specialists to develop new packaging suppliers to meet the increased volume and introduced new process/equipment.
Continuously optimize packaging material to improve the plant's performance on TDQ and OTIF and ensure the packaging material meets our specs prior to use.
Collate packaging information to ensure completeness and accuracy in PICASSO and related databases.
Plant GMP / Security Program; 10 %
Routinely monitoring and adhering to Good Manufacturing Practices of the highest standard and ensuring the plant's security program are in-placed effective.
Follow-up on the execution of the GMP programs in both general facilities by outsourced service contractors and manufacturing areas by direct GMP housekeepers
Management of the pest control and housekeeping program by monitoring & evaluating the service performance (contractors), controlling,  and monitoring the housekeepers' performance inside the manufacturing area to ensure total compliance with GMP standards.
Management System;  10%
Implement Quality requirements (KORE and ISO) and provide suggestions and recommendations for improvement based on the food/pharmaceutical industry's experience.
Lead the team to play a key role in the implementation, assessment and improvement of the Quality and Food Safety Management System
Support the internal auditor team of the quality system and actively participate in the scheduled internal audit to continuously improve/upgrade the plant's quality system and operations.
Capability; 5 %
Identify the training needs of the associates.
Responsible to lead midyear/annual performance reviews, provide feedback and documenting the performance of associates.
QUALIFICATIONS: Bachelor or Postgraduate degree in food technology or food science, or biochemistry or relevant qualification suitable for a process QA Analyst job.
COMPETENCIES / SKILLS:
Minimum experience is 4-5  years prior experience in a production supervision role in a food/beverage or pharmaceutical industry.
Familiar with ISO and Food Safety Quality Systems, understanding KORE requirements will be preferred.
Knowledge of concentrate manufacturing and quality system, project management experience; strong GMP  experience, and problem-solving skills. strategic-thinking, planning, organizing, and executing skills.  Knowledge of local food laws/regulations.
Travel; Travel requirements are in response to problems for the most part and therefore not specifically planned upfront. The approximate time is 10%.
Job complexities; 
Able to work in shifts.
As indicated, the impact is on all manufacturing operations as far as quality is concerned and this applies to warehouse, distribution aspects, Customer Complaints investigation, and resolutions.
Participate in visits to Customers to resolve alleged quality issues with manufacturing. Co-ordinate joint efforts with other CPS plants on quality initiatives and was identified to participate in cross audits with Corporate Quality. Daily contact with the Leadership Team, Wider Management Team, and associates throughout the plant.
Skills: Data Analysis; Pattern Recognition