Clinexel, the CRO, is looking for motivated candidates for the following departments- ClinicalOperations, Regulatory, MedicalWriting, and quality assurance, based in Navi Mumbai. We are conducting Phase 1 to Phase IV national and global clinical trials. We work in various therapeutic areas and conduct studies on drugs and medical devices. These are office-based positions.
Candidates with Experience in the following areas are invited:
Regulatory Affairs: handling initial submissions, publishing and transmitting quality submissions to the agency; Publishing major and complex submissions for the US, EU, and Canada. The Associate would be required to perform document-level publishing activities, troubleshoot document issues and perform quality control checks for submission-ready documents per the agency guidance. Associates would collaborate with the medical writing team for planning, preparation, publishing, and quality control checks of submissions.
Clinical Data Management: Experience in CRF Review, CDM-related SOP preparation and review, Preparation of Data Management Plan, Database Development (Designing CRFs, edit checks, Enable-Disable), Database testing (Testing Data Entry screens and Validation Programming), Preparing operations manual and eCRF Filling Guidelines, SAE Reconciliation, Database Lock.

Clinical Operations (CRAs): Site Selection, Site Initiation, site monitoring, and closeout.
QA: Management of QMS, Internal and vendor audit, SOP preparations etc.
Medical Writer: Experience in preparation of protocols, ICF, CSR
Preferred Qualifications: (Pharmacists, BDS, MBBS, Nurses, BHMS/ BAMS, physiotherapists, MSc. Life Sciences).
Immediate joiners will be preferred
Application process; If you are interested, please share your cv at careers@clinexel-cro.com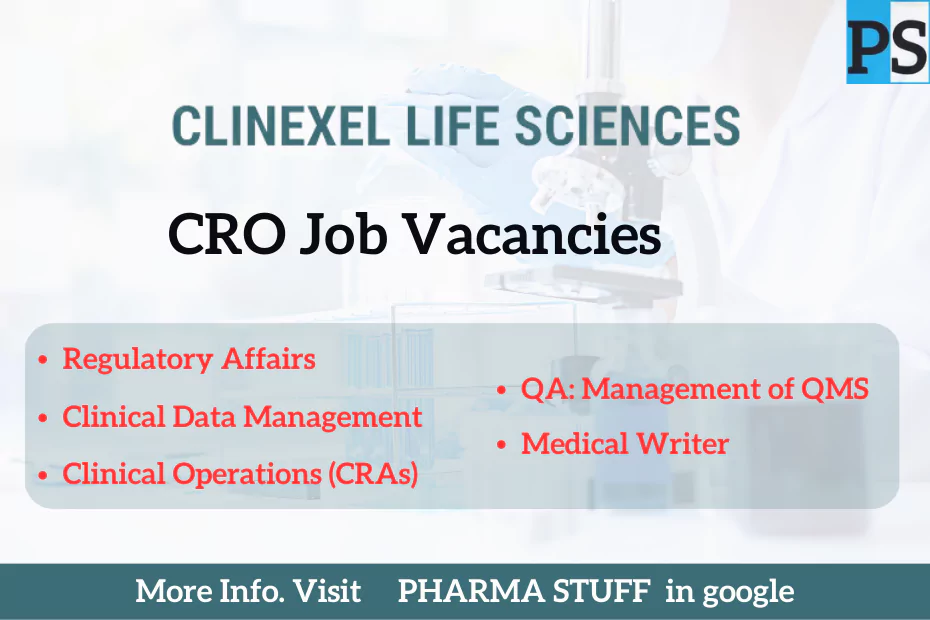 Disclaimer:

PHARMA STUFF
 provides general information only. Job seekers must verify job postings and employers before applying. We're not liable for scams or fraudulent job postings. Be cautious of any job postings asking for money. We never ask for money.