LiteSan, the clinical research arm of Centaur, is located in Centaur House and conforms to international regulatory standards. LifeSan is fully integrated, offering end-to-end clinical research solutions from Bioequivalence and Bioavailability (BA-BE) studies to drug interaction studies to phase II, III and IV clinical trials. LifeSan caters to global leaders and leading Indian companies. LifeSan is successfully inspected by the USFDA, MHRA (UK), MCC and BfArM (Germany). LifeSan would soon be foraying into the area of pharmacovigilance. LifeSan offers world-class facilities with state-of-the-art machinery, 42 beds, and a separate ICU section operated by 6 doctors and well-trained and experienced staff.
Regulatory Affairs
Centaur has a highly experienced Regulatory Affairs team for compiling DMFs, CTD/eCTD Dossiers and ANDAs for submission to regulatory authorities globally, including USA/ EU/AUS/JAPAN/CANADA/ SOUTH AFRICA/MEXICO/ NEWZEALAND etc. The regulatory team is continuously updated on the global regulatory framework for organizing data generation as per the required submission norms in the territory. Centaur Regulatory Team is working on submissions of DMFs and Dossiers globally, which will pave business for Centaur in the coming years. This will include domestic and emerging market opportunities and registration of Finished products and APIs in highly regulated and competitive markets globally.
Asst. Manager

Qualification: M.Pharm / B.Pharm / M.Sc. having 8+years' experience in the EU/LATAM market
Job profile :
Responsible for the designated regulatory projects with respective deadlines
Expertise in authoring CMC documentation for EU MAA and post-approval submissions with hands-on experience in using eCTD software
Good coordination skills with stakeholders regularly to source the documents by project timelines.
Review the documents against the Agency guidances, assuring regulatory compliance. Keep knowledge up to date about regulatory guidelines.
Manage administration of regulatory documentation and ensure the traceability of regulatory history (filing, archiving, database etc.)
Sr. Officer / Executive
Qualification: M.Pharm / B.Pharm/ M.Sc. having 4-6 years experience in the US market
Job profile :
Author and compile CMC documentation for ANDA filings and post-approval submissions
Coordination with stakeholders regularly to source the documents by project timelines.
Review the documents against the FDA guidance, assuring regulatory compliance. Keep knowledge up to date concerning regulatory guidelines Hands-on experience in using eCTD software
RESEARCH ASSOCIATE -BIOANALYTICAL
Job Description/Responsibilities
Performs Bio-Analytical method development and validation for the quantification of drugs—active involvement in method development of the drug in biological matrix.
To write and revise SOPs as per need and maintain awareness of and adherence to all current SOPs.
Investigate and correct analytical, instrumental, and procedural problems in consultation with the supervisor.
To update team members about safety precautions during analysis.
Subject Sample Analysis.
Reporting to the Group Leader for day-to-day activities.
Documents all the work and results of all assignments as required.
Sets up and ensures calibration of analytical systems and maintenance of respective instrument systems.
Maintaining GLP in Laboratory.
Compilation of raw data and their archiving after completion of final reports.
Incurred Sample Re-Analysis.
Qualification:-BSC/MSC BIOANALYTICAL SCIENCE/MSC Pharmaceutics
NO of Vacancies:-15
Experience:-2-5 years
Location:-Mumbai (Santacruz East)
Preferably only Male Candidates (ROTATIONAL SHIFTS JOB INCLUDE NIGHT SHIFTS)
How to Apply;
Interested candidates can share their profiles on nrane@centaurlab.com
Last Date: 15th April 2023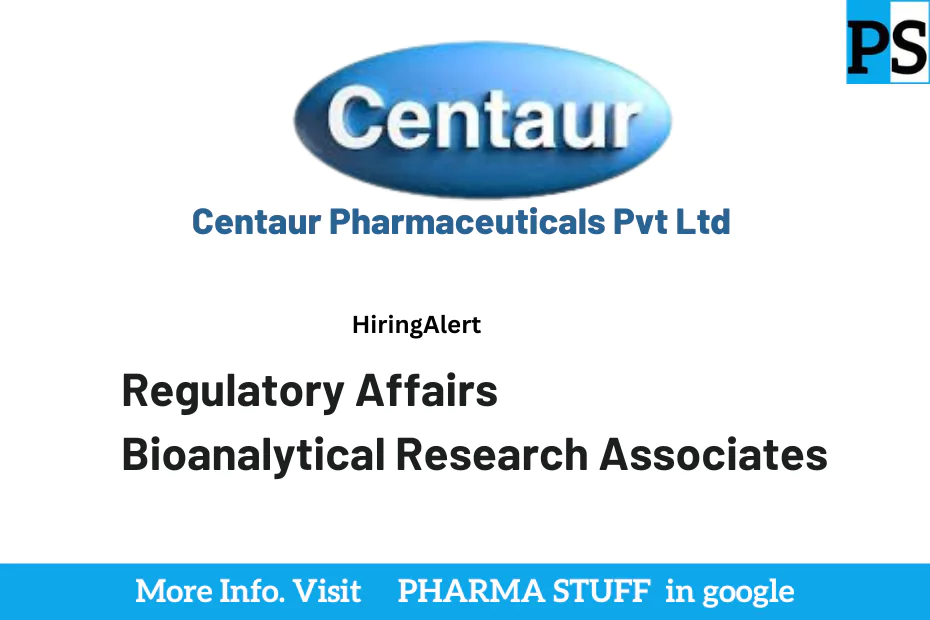 Disclaimer:

PHARMA STUFF
 provides general information only. Job seekers must verify job postings and employers before applying. We're not liable for scams or fraudulent job postings. Be cautious of any job postings asking for money. We never ask for money.