qinecsa – Mysore Hiring for Pharmacovigilance professionals
qinecsa currently hiring for Drug Safety professionals – MICC (Medical Information Call Centre)"
A medical information call center is a customer service center that provides information about healthcare products and services to the public. These centers typically have a team of trained healthcare professionals who are available to answer questions and provide information over the phone or via email.
The specific types of information that are provided by a medical information call center can vary, but they may include information about prescription and over-the-counter medications, medical conditions, treatment options, and healthcare resources. Medical information call centers may also provide support and guidance to people who are seeking information about healthcare products and services or who have questions or concerns about their health.

Medical information call centers can be an important resource for people who need access to accurate and up-to-date healthcare information. They can also be a valuable resource for healthcare professionals who are seeking information about new products and services or who need to stay up-to-date with the latest developments in their field.
Required ;
Very good communication skills
Willing to work in rotational shifts
B Pharm, M Pharm, MSc (Biology) candidates preferred
Candidates with experience in other voice process domain with relevant education can apply
In a pharmacovigilance voice process, trained healthcare professionals may receive calls from patients, healthcare providers, or other individuals who have experienced a potential adverse drug reaction. The professionals may ask the caller questions about the reaction, including the symptoms experienced, the medications being taken, and any other relevant information. This information is then recorded and may be used to identify potential safety issues with the drug and to inform regulatory agencies and healthcare providers about potential risks.
Pharmacovigilance is an important aspect of drug safety, as it helps to identify and mitigate potential risks associated with medications. A pharmacovigilance voice process can be an efficient and effective way to collect and report information about adverse drug reactions and to help ensure the safety of medications.
NOTE: Candidates with excellent communication will be shortlisted for the interview process
Please mention Subject Line as Candidate Name _MICC_ Notice period
Must have excellent communication (KPO Pharmacovigilance/Voice Process)
Must be willing to work in rotational shifts and night shifts
Work Location: Mysore, Karnataka
Experience: Looking for candidates with very good communication freshers or Experienced in Voice process Mysore Location for MICC( Medical Information Call Center) project Required
Education: B Pharm / M Pharm / MSc (LifeScience)
Notice Period: Immediate to 30 Days
APPLICATION PROCESS; 
Medical Information call Centre Associate from life sciences industry with 1-year MICC experience in the PV domain with fair knowledge of Medical Information Contact Centers. This role is based in Mysore, interested candidates share your updated resume to  roopa.shree@qinecsa.com
Alternative; If your profile is suitable and interesting kindly share your resume with nithin.vijendra@qinecsa.com, kavitha.r@qinecsa.com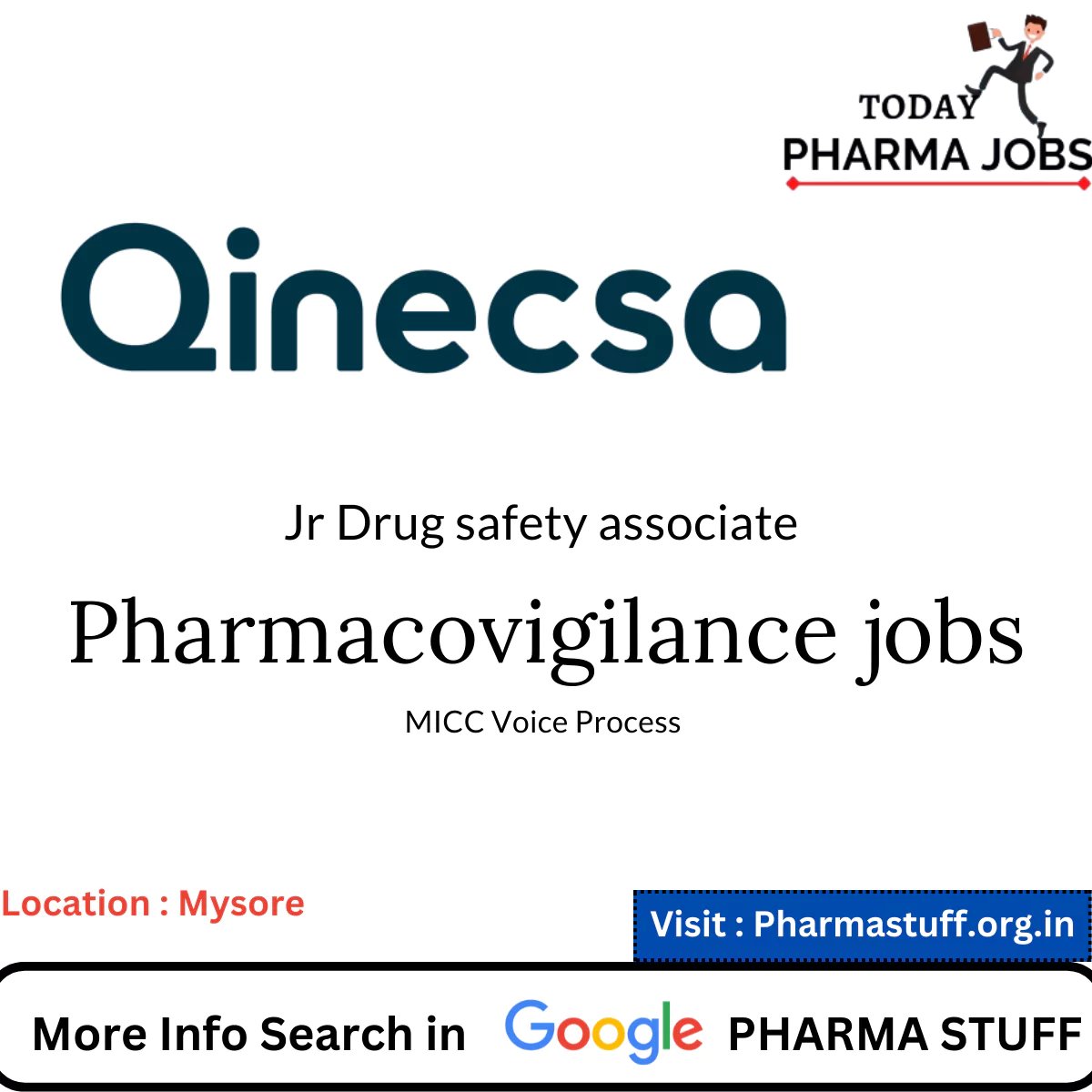 Disclaimer:

PHARMA STUFF
 provides general information only. Job seekers must verify job postings and employers before applying. We're not liable for scams or fraudulent job postings. Be cautious of any job postings asking for money. We never ask for money.